Data Sheet
Name: Ciarlone
Appellation: Montecucco Red D.O.C.
Grapes: 60% Sangiovese - 40% Merlot, Alicante, Petit Verdot
Vineyard: Sughereta
Planting year: April 2007
Characteristics of the soil: polymorphous and varied with outcropping clayey lenses, arid portions rich of skeleton and rocks opposed to more fertile areas rich in organic substance
Exposition: south-west
Altitude: 350 m asl
Planting density: 5.500 plants/ha
Pruning system: spurred cordon (Royat cordon)
Yield per hectare: 8 tonnes
Harvest: manual in boxes, at the end of September
Vinication: the grapes carefully harvested are manually selected on a sorting belt in the winery, before the beginning of the alcoholic fermentation with selected yeasts, at a constant temperature of 26°C. The maceration is about 12 days long, with pumpovers exposed to the air till the end of the fermentation
Duration of the alcoholic fermentation: 10-12 days
Malolactic fermentation: spontaneously in stainless steel tanks
Maturation: 12 months in stainless steel tanks on its lees
Aging: 6 months in bottle
Analytical bottling data: alcohol: 13,28 % vol, residual sugar: 1,6 g/l, total acidity: 5,3 g/l, pH: 3,37, volatile acidity: 0,34 g/l, total dry extract: 32,5 g/l
La Season
After many years we had an hard and dry winter, rich in snowfall with a blanket which was maintained for almost the entire month of February. The spring, albeit belated, had a strong start though with very few rainfall; tendency that found itself repeated during the summer season too, with average temperatures typical for this area and without extreme heat peaks. This peculiar weather has kept the vigour from exciding and has promoted the growth of straggly bunches, of small-medium sizes. The harvest started during the middle of September and lasted almost till the whole October for the latest variety and the most quality Sangiovese. The 2012, with its limited production, has promoted the growth of great value grapes that will develop wines of great importance and complexity.
Tasting Notes
Of a bright red, it immediately shows it's fresh character, with an intense and winey perfume, characterised by luscious fruity notes, in which we recognise the plum and cherry, partnering with a soft geranium ower. Rich and intense at the contact with palate, with a well structured tannin balanced with its pleasing softness and its youthful freshness. Persistent in the mouth and with a pleasant bitter note.
Food Pairings
Fresh and easy wine, served in large glasses at the optimal temperature of 16-18°C, it is well paired with cold cuts and medium-aged cheeses, maybe slightly melted grilled. It is enhanced with tasty plates, such as "lasagne" and meat ragu "pici"; and also with chicken, rabbit or turkey based plates, rather stewed or slightly roasted. It repersents a must with mixed grilles and with sausages, where the fruits and its natural softness perfectly match the aromatic and smoky characteristcs.
Ciarlone ( The Babbler )
In the tradition of the entire  Italy, and in Tuscany in particular, the convivial meetings are simply not possible without a good glass of wine.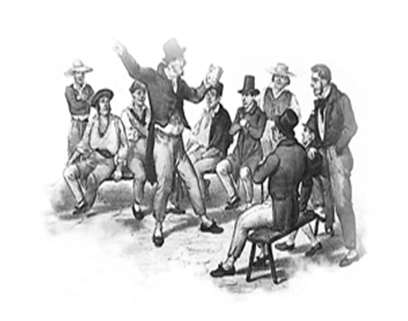 It was daily use of Tuscan peasants to meet  after a tiring day at work, in a typical country Inn,  and rinse the dust of fields and vineyards  from their throats  , with a good glass of  wine, which would have been the result of that hard work. Among them, it was easy to find improvised storytellers, wanderers and vagabonds, who in exchange for a glass of wine (better  two or three) entertained the company with stories of past  times, legends of saints and dragons, miracles and magic, of which the Maremma  land is full of, and that the heat of wine made more easy to believe.

At the "Babbler", the man with easy speech, and to the convivial dimension that has always accompanied the wine, we  dedicated our younger and cheerful  Montecucco, easy to drink and ideal support for pleasant evenings in good company. It is produced by 60% Sangiovese, with Merlot, Alicante and Petit Verdot, and aged for 1 year in steel  tanks.
Served at 16-18°C, goes well with appetitzer, cured meats, red sauce pasta dishes and meats in simple cookings.