Caviar - Recipes and Essential Tips - Caviar Giaveri
Preserve, Prepare, Match and Serve Caviar
The eternal match with champagne, important sparkling wine or vodka, ritual use in jet set events and the most important celebrations and get-togethers, as in more intimate select gatherings, are the most classical occasions for enjoying selectedcaviars by Caviar Giaveri.
It is very important to keep caviar in the fridge, not in the freezer. The perfect temperature is the key to keeping the nuances of flavour and the consistency of this delicious food.
Caviar can be tasted on its own, preferably using mother-of-pearl spoons (avoid steel as it can alter the flavour), and served on a bed of ice. Or present it with lightly buttered toasted bread, hard-boiled eggs, blinis or boiled potatoes, all simple recipes that will enhance the refinement of your table.
Egg White Cream with Crunchy Yolk and Caviar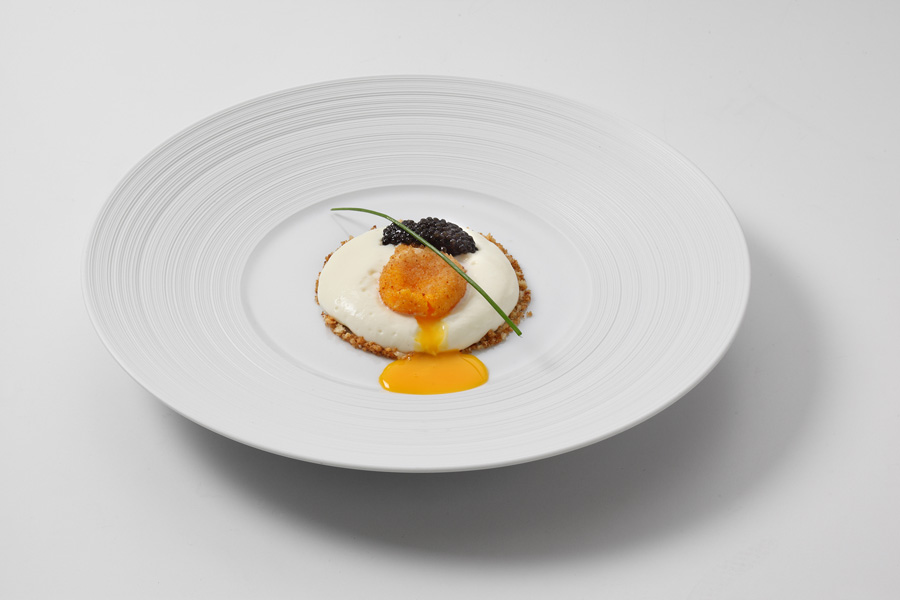 4 eggs
60g breadcrumbs
240g fresh cream
1/2lt groundnut oil
60g caviar
10g chives
salt and pepper
Separate egg whites from yolks.
Boil the fresh cream for 4 minutes, add salt and pepper. Take the cream off, add the whites, mix and filtrate through a strainer.
Mix the yolks into the breadcrumbs and let them rest in the fridge for at least 2 hours. Let the yolks thicken in the microwave with the cream, after that, pour it in a blender and emulsify till to obtain a soft cream. Fry the yolks in oil at 170°, dry and salt.
Lay down the white egg cream in a soup plate, put it in the middle of the fried yolk and add a small spoon of caviar, top with thin cut chives.
Fennel Essence, Orange, Scampi and Caviar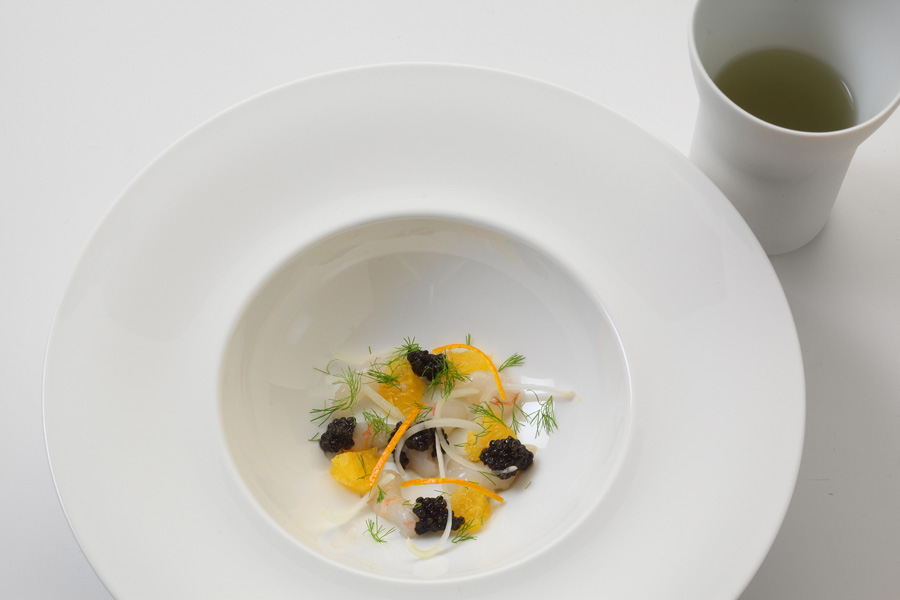 2 fennels
3g fennel seeds
400ml water
1 organic orange
8 scampi
60g caviar
dill, salt, pepper, olive oil
Clean the fennels keeping their hearts aside. Thin cut all the wastes. Put them in a pot with the fennel seeds, orange skin and salt. Pour hot water and hermetically cover. Let it rest untill the water cools down. Filter with a strainer and keep warm.
Remove the pith and membrane from the orange segments and cut them in small pieces.
Shell the scampi and marinate the tails cut in half with olive oil, salt, pepper and ground dill.
Place 4 small spoons of caviar in a soup plate, 4 small pieces of orange and 4 small pieces of scampi. Pour the hot fennel infusion over.
Cold Spaghetti with Burrata, Shallot and Caviare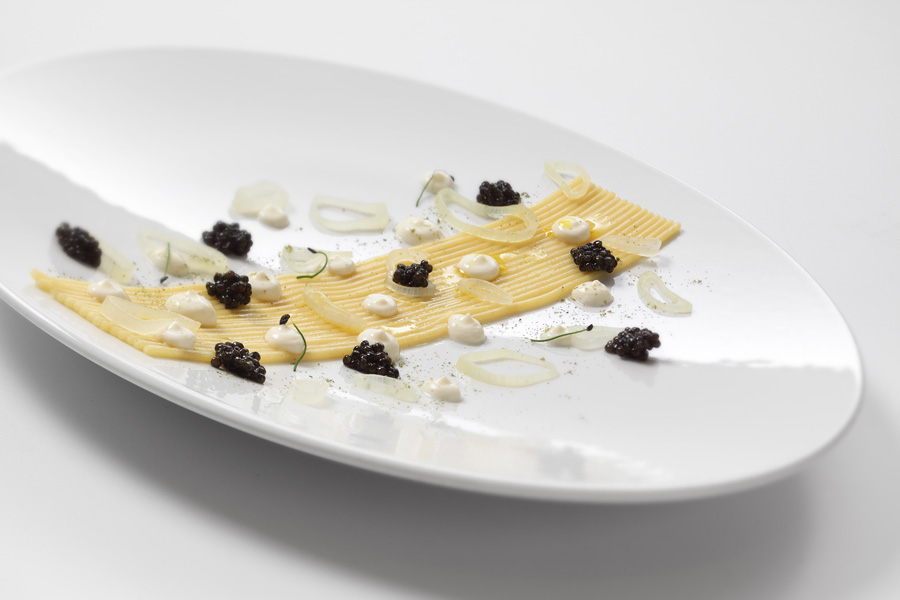 240g spaghetti
160g stracciatella of burrata
60g shallot
60g caviar
salt, pepper, olive oil
Grind the shallot, heavily salt it for 1 hour; after that wash it through with tap water and dry it. Cook the spaghetti al dente, leave it to cool down in tap water and season with olive oil, salt, pepper and shallots.
In a soup plate place the stracciatella of burrata on the bottom, and top with the rolled spaghetti and caviar.
Beef Carpaccio with Salt Lemon, Caviar and Crunchy Butter Bread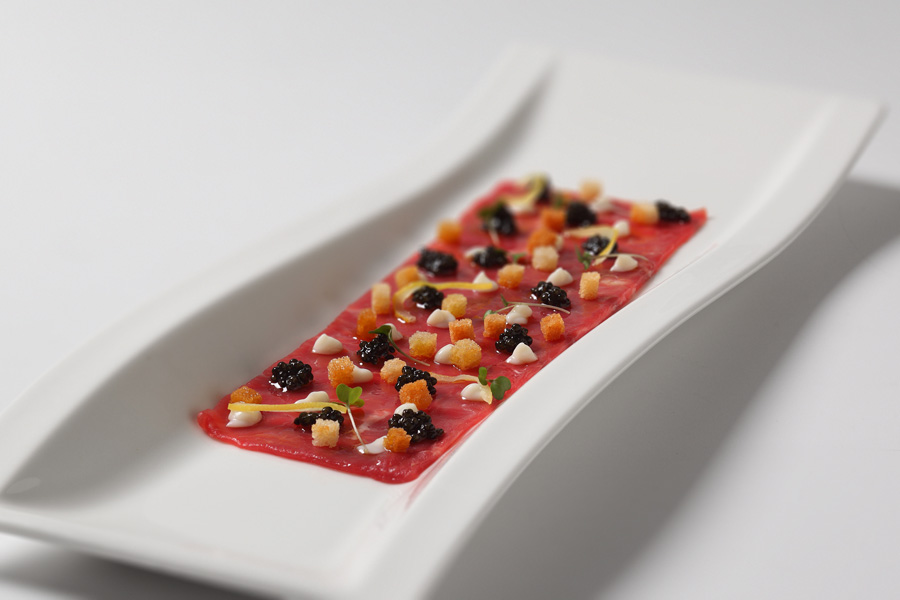 240g tenderloin beef
1 lemon
20g salt
20g sugar
60g caviar
50g fresh bread
50g butter
50g cream
salt, pepper, olive oil
Prepare the lemons a week in advance: cut in half and cover with salt and sugar mixed together, leave them to marinate for at least 1 week, after that wash them through in tap water. Cut the skin into thin julienne strips and keep them aside.
Cut the tenderloin in four small slices, flatten with a tenderizer between two sheets of wax paper. Cut the bread in small 2mm cubes, sauté in a pan with butter and salt. Put the beef in a flat plate, salt and pepper it and brush with olive oil.
Garnish with the lemon skin, caviar and toasted bread dices. End off with a few drops of semi-whipped cream with salt, pepper and a squeeze of lemon.
Cooked and Raw Cauliflower with Caviar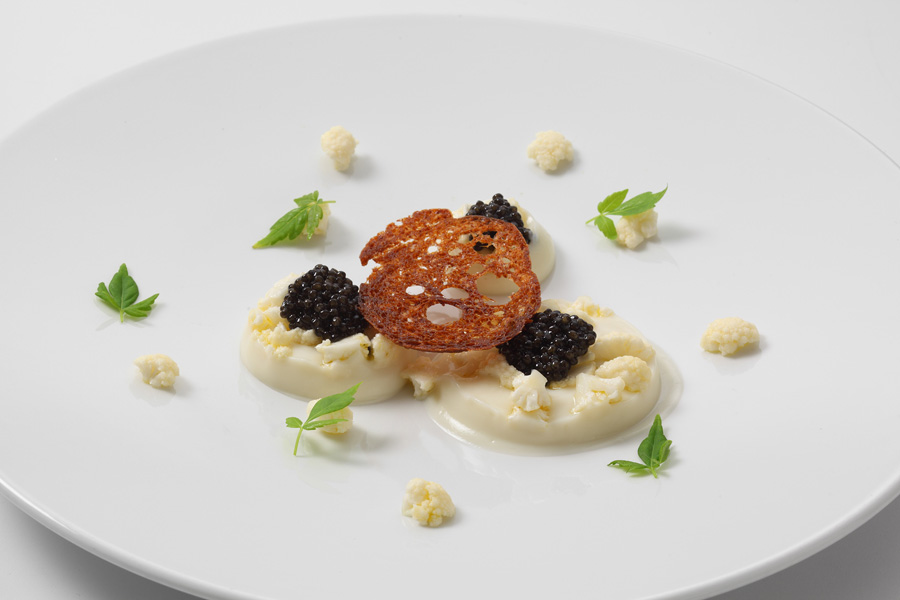 200g cauliflower
5 eggs
60g caviar
50g olive oil
1/2 lemon
salt, pepper
Cut the tops of the cauliflower and keep them apart, chop the rest into pieces and cook in salted water, drain it off, place in a blender with a egg yolk and emulsify with olive oil. Add salt and pepper. Boil the other 4 eggs for 8 minutes, shell them and dice them.
Put the diced eggs at the bottom of the plate, add the warm cauliflower puree, the caviar and end with the tops of the cauliflower slightly marinated in olive oil, salt and pepper.
Spoonfuls of Parsleyed Potatoes, Quail Eggs and Caviar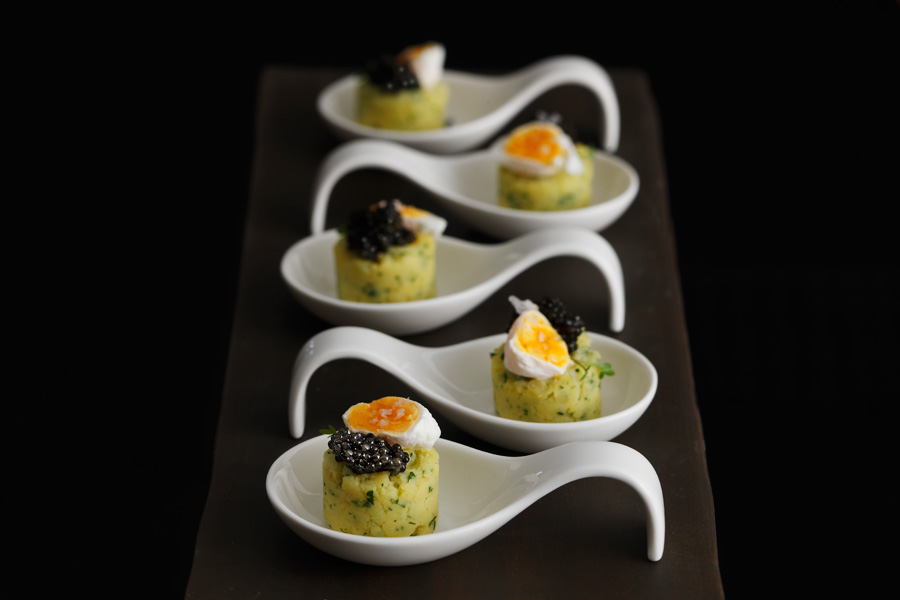 Peel and cut up 200g potatoes and boil. When cooked put through a potato ricer and mash with 4 spoonfuls of extra virgin olive oil, salt and pepper. Leave to cool and when cold add the chopped parsley.
Quail eggs: boil a pan of water with a spoonful of white wine vinegar. When the water is boiling, crack one quail egg and pour into the water. Let the egg cook without disturbing it: put to cool in a bowl filled with cold water. Serve on ceramic spoons (not steel) with the aid of a mould: place the potatoes first, then the egg and top with the caviar.
Blinis, Sour Cream, Creamed Smoked Aubergines and Caviar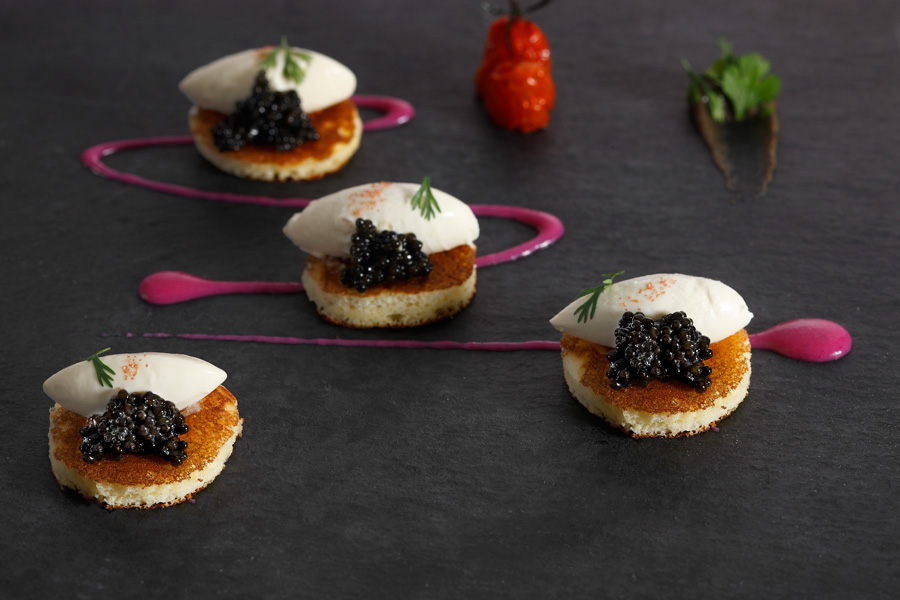 Sour cream: 500g whipping cream, 80 g lemon juice. Keep in fridge for 4 hours.
Creamed smoked aubergines: 2 aubergines: roast the skin of the whole aubergines in a hot frying pan. When the entire surface is roasted, remove the pulp, mix in a mixer with extra virgin olive oil, salt, pepper and part of the roasted skin.
Blinis:
250g milk and 20g brewer's yeast; mix and put on one side for half an hour at 40°
350ml milk
15g salt
400g flour
3 eggs
150g melted butter
Mix the first dough with the second and put to rise for at least half an hour. Add 190 g egg white, whipped with 40g sugar. Leave to rise for an hour and cook as a crepe in a non-stick pan.
Wholemeal Spaghetti and Caviar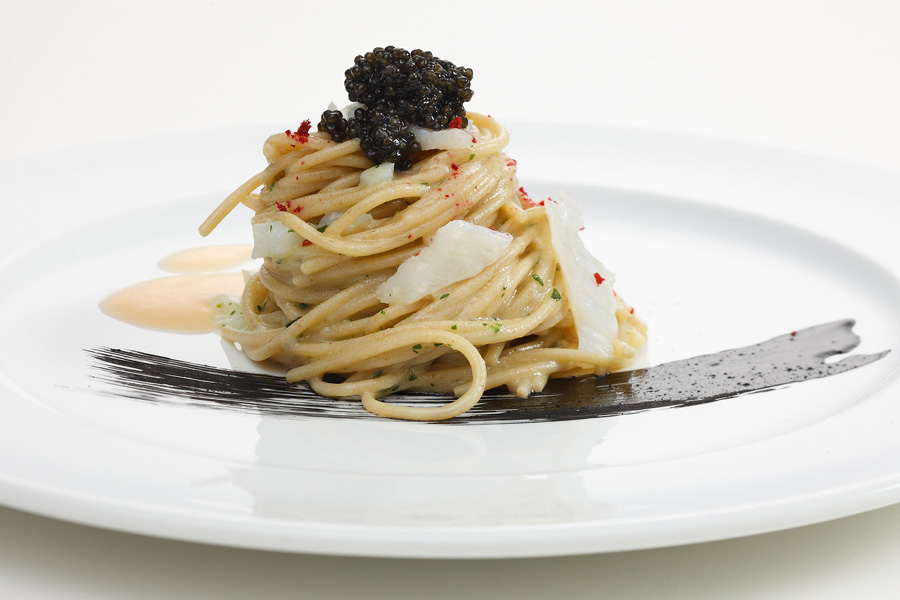 For 4 people
320g wholemeal spaghetti, boiled in plenty of salted water.
Sauce: slice a piece of ginger the size of a walnut and boil in a little water with vinegar and sugar, two sprigs of parsley and fresh coriander. Boil for 1 minute and thicken with a little corn starch and extra virgin olive oil, add soy sauce and put on one side. Sieve the sauce and pour onto the cooked spaghetti.
Dried salted cod: remove the skin and surface salt, cut into 80g pieces and steam in a vacuum bag at 50° for 12 minutes. Cool and open the vacuum bag. Flake the fish and add to the spaghetti and sauce. Serve the spaghetti luke-warm and decorate the plate with octopus ink, drops of fresh liquidised tomato with a dressing of your choice, and a spoonful of caviar.
Persimmon Gelatine, Broccoli Mousse, Yoghurt and Caviar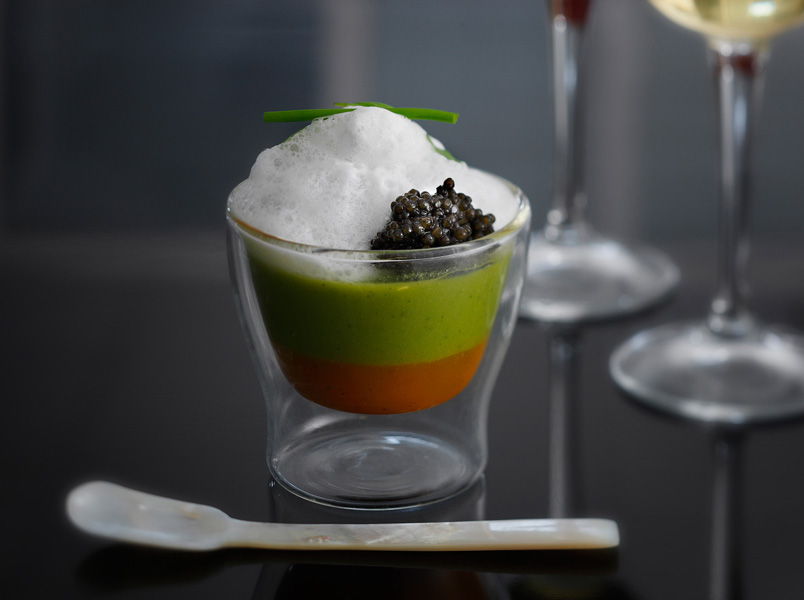 For 4 people
Persimmon gelatine: 2 ripe persimmons, salt, pepper, extra virgin olive oil, 2 sheets of gelatin.
Peel the persimmons, sieve the pulp and add the salt, pepper and olive oil. Soak the sheets of gelatin in water and add to the mix. Place in the fridge for at least 2 hours.
Broccoli mousse: steam 3 broccolis, liquidise together with a little of the liquid produced by steaming, add salt and pepper to taste and cool. When cold add 200g cream and 2 sheets of gelatin. Place the persimmon gelatine in small glasses, add the broccoli mousse and serve with caviar and yoghurt.
Sushi Couscous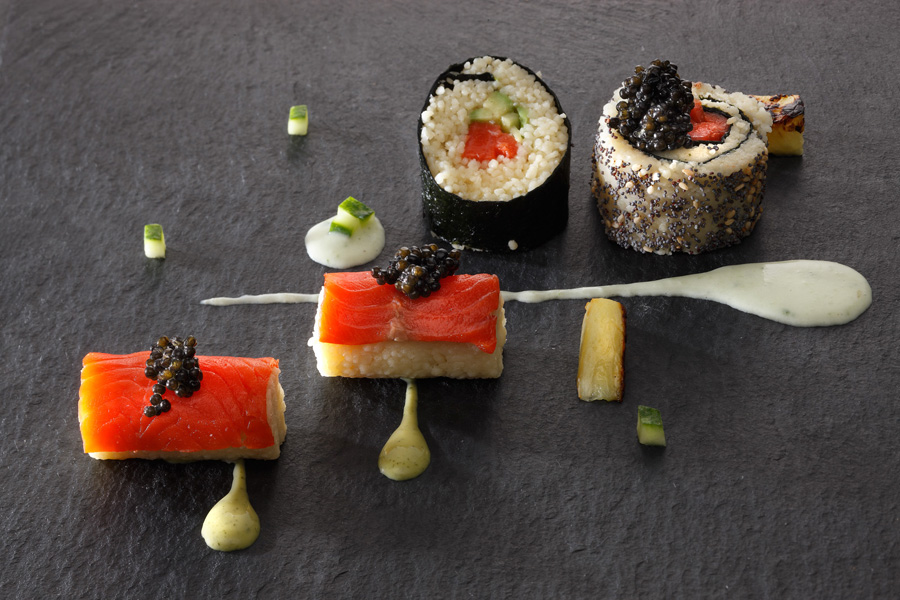 For 2 people
Couscous: 300g pre-cooked couscous and 600g water. Boil the water and cook the couscous for 5 minutes, stirring constantly.
200g Sokey Jolanda de Colò Salmon, cut into slices
2 sheets of Alga nori, lightly brushed with water
1 cucumber
1 avocado
wasabi paste
1cm thick pineapple slices, roasted in a frying pan
1 jar fat-free yoghurt
soy sauce
mint leaves
salt, pepper, oil
In a mixer mix the yoghurt and mint with a little cucumber skin, salt and pepper and place in fridge. Dip the pineapple slices in oil, salt and pepper and cook in the frying pan; cut into cubes and place in fridge. Dampen the alga nori with water and place on part of the couscous, fill to taste with a little wasabi paste, cucumber, avocado and salmon, all cut into strips. Make into a roll, wrap in cling film and place in fridge for at least one hour.
Do the same without the alga, rolling the couscous in black and white sesame seeds, or roll the other way round (see photo), cut the couscous sauce into rounds and serve with the pineapple, yoghurt and mint sauce and soy sauce mixed with wasabi.
Place the caviar on top of the sushi rolls.
Violet Risotto with Yoghurt, Raw and Cooked Scallops, Caviar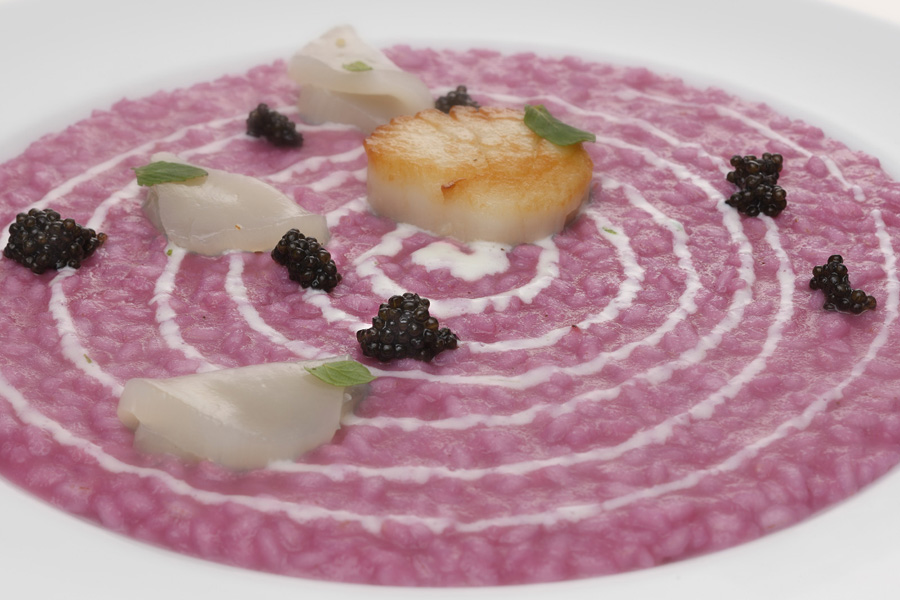 For 4 people
200g rice
300g cooked and liquidised beetroot
600g meat broth
Jolanda de Colò scallops
yoghurt sauce: 125g fat-free yoghurt, salt, pepper, 50g sour cream (see recipe): mix together and place in a cream dispenser
To make the risotto toast the rice without vegetables or oil, add white wine and when it has evaporated add the beetroot juice and meat broth alternately. Salt to taste.
Cook the whole scallops in a very hot frying pan with a spoonful of oil. Calculate around one scallop per person. Slice two raw scallops to place on top of the risotto.
When the risotto is ready (use Carnaroli rice cooked for around 14 minutes from when the broth is added), stir in extra virgin olive oil and spread onto a plate. Make a spiral pattern with the yoghurt sauce. On top of the risotto place the sliced raw scallops, the cooked one cut into four and small heaps of caviar.
Caviar Finger Food
Crunchy Wheat with Burrata, Leek and Caviar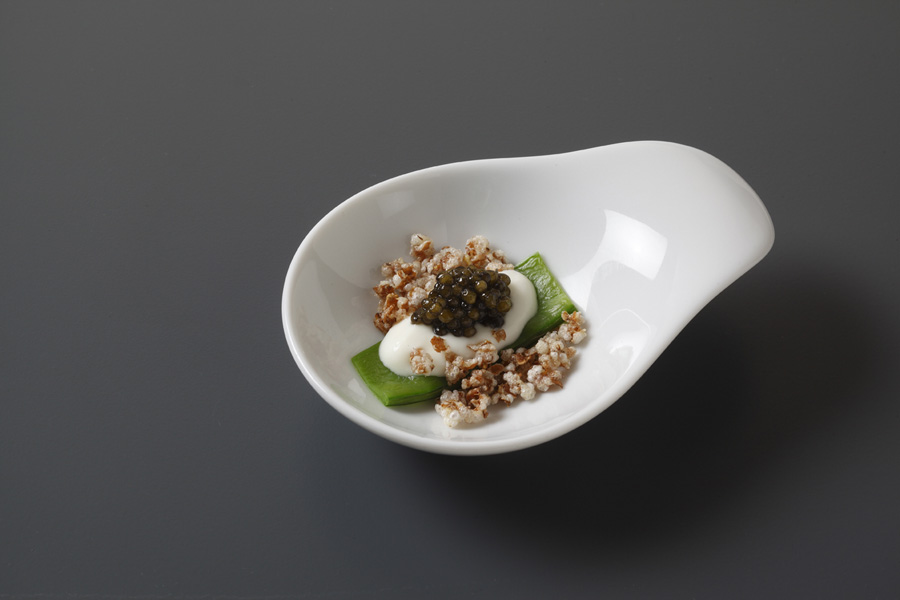 Desalted Codfish with Bread, Yoghurt and Caviar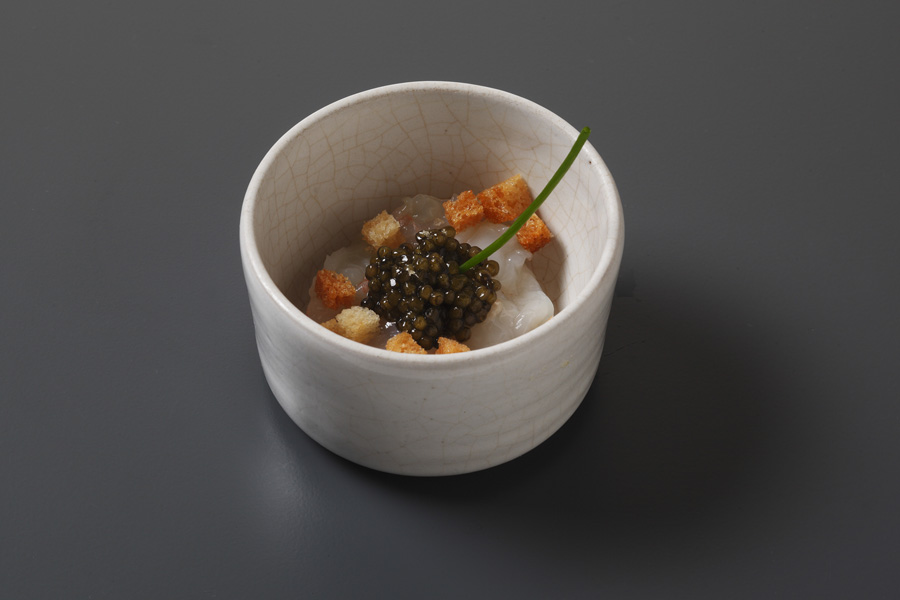 Foam of Casatella with Cornmeal Mash and Caviar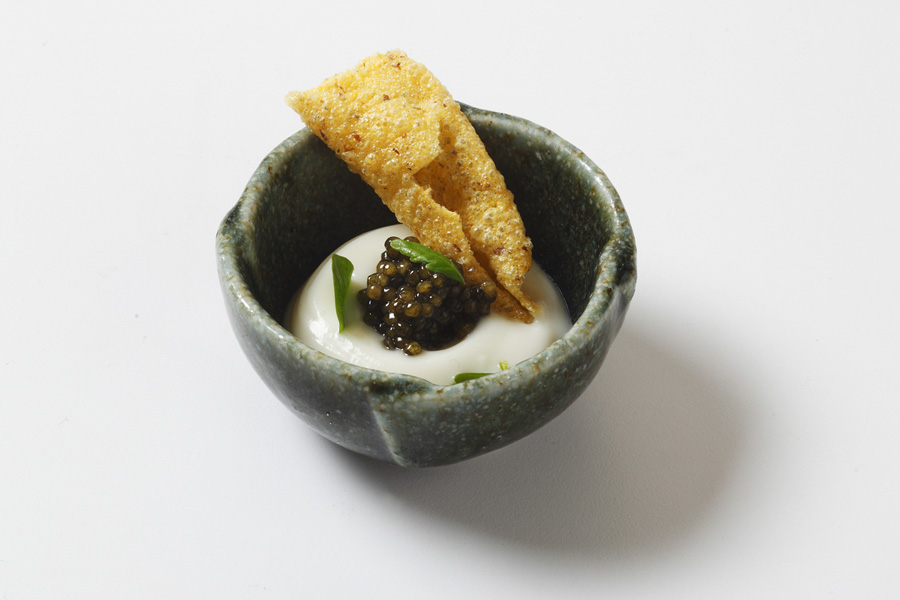 Avocado Puree, Shallot and Caviar